Do you have a home improvement project you keep putting off? Is there a project you started but have yet to finish? Minor repairs that you don't want to take the time to fix? DIY home improvement can be fun, but let's face it. Between juggling work, family life, pets, and everything in between, home repair and maintenance projects can easily fall to the wayside. When you don't have the time (or energy) to complete your home projects, or lack the experience and knowledge to get them done correctly, professional handyman services are the solution.
Are you located in the Madison, WI, area? If you need a handyman, W.E. Davies + Sons Remodeling, Inc. is ready to help. Read on to learn more about the benefits of handyman services and how they can help you in the months ahead and for years to come!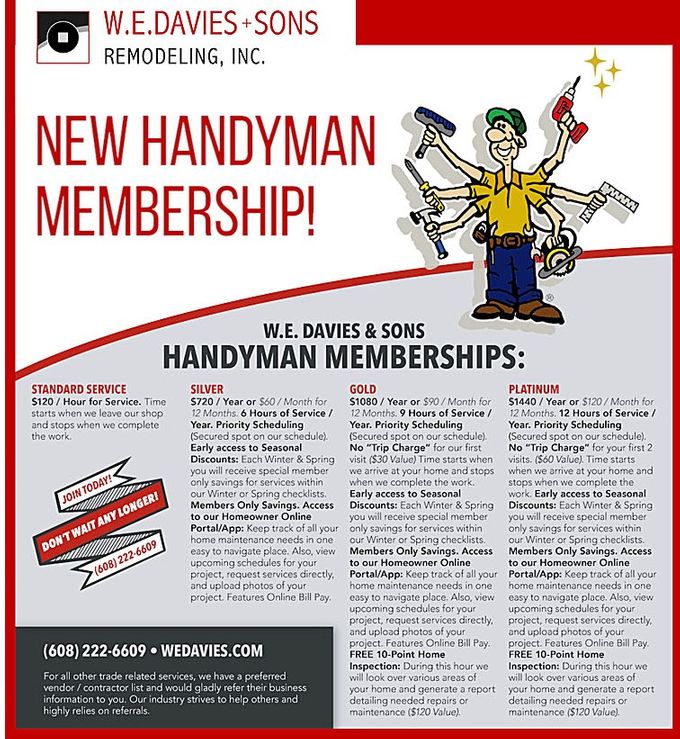 Improves Your Home Safety
Routine home maintenance projects, such as cleaning the gutters and testing the fire alarms and CO2 detectors, are called "routine" for a reason! Although they can eat up a couple of hours of our time, these types of projects are essential to our safety.
The ramifications of a faulty fire alarm or CO2 detector go without saying. But even the mundane projects can play a crucial role in your home and family's safety. With the help of a handyman, you can get them done efficiently and quickly without having to worry about them.
For example, clogged gutters left for too long can lead to roof and foundation damage. This can become dangerous to everyone in your home, especially during windy and stormy weather. Clogged gutters can also cause basement flooding, resulting in hazardous mold growth. A handyman can clean out your gutters every season or more frequently if needed. They can also inspect the gutters and adjacent downspouts and roofing for other issues.
Other, more time-consuming projects are essential to your family's safety, and luckily, a handyman can help with all of these. Properly mounting a TV or wall hangings, for instance, can prevent them from falling and hurting someone. Lubricating window hardware can reduce the risk of injury when attempting to open and close the windows.
A local handyman can also help you tackle your home's safety head-on by installing safety bars and railings. Installing these may be in your interests if you have an aging parent or relative living under your roof. Depending on the tier you sign up for, we provide a free home inspection ($120 value) with a safety report detailing repairs and maintenance your home needs.
Cost-Effective & Reliable
Have you ever botched what was supposed to be an easy DIY fix?
It happens to the best of us, but your home improvement projects shouldn't result in more costly AND time-consuming repairs. Some tasks are better to leave to the professionals, we'll take care of them when and where you need them.
Take storm windows, for example. Though expensive, storm windows are worthwhile because of their five to seven-year return on investment. They can also help homeowners cut down on their monthly energy bills anywhere from 12% to over 30%!
However, improperly installing them can defeat their purpose, resulting in excess noise, drafts, damage, and colder temperatures inside the home. And with a decent-quality storm window averaging a few hundred dollars per window, this project requires a professional's reliability.
If you sign up for a gold membership, you can receive a "no trip" charge on a visit (two "no trip" charges for platinum members.) That way, if you run into an issue with your storm windows, doors, kitchen cabinets, or any other area of your home, we'll come and fix the issue at no additional cost to you.
Save More Time Every Season
Madison, WI, is no stranger to extreme weather in spring and winter, making our seasonal projects vital to protect our homes. But when these seasons roll around, the last thing any of us want to do is home maintenance. Leave removing/reinstalling window screens, pressure washing the deck, or reversing the direction of ceiling fans to your handyman.
With the help of our handymen, we can prepare your home and yard for any season, saving you more time to enjoy family life and the outdoors. Our seasonal services also strive to identify problems before they result in future and costly repairs.
Experience the Benefits of Handyman Services
Hiring a handyman is an efficient way to take better care of your home in 2021. If you're not sure which handyman services you need, we're happy to assist and guide you through your options.
Plus, with the W.E. Davies + Sons Remodeling, Inc. team in your corner, we can help you with all of your home remodeling needs, as well. So, should you decide to build a patio, renovate the kitchen, or put in an addition, we'll have your back from start to finish!
For more home remodeling and home improvement ideas, check out our blog!