Pet-Friendly Home Renovations
Pet ownership is on the rise! One estimate says that in 2018, 60.2 million people in the US owned a dog and estimates the growth to nearly 70 million in 2022. And that's just dogs! With numbers like this it's no wonder people are planning pet-friendly home renovations.
Why Renovate for Pets?
There are a number of reasons you may want to renovate with your furry friend in mind. Maybe you've recently adopted a dog and want to make some changes to your home to accommodate them. Maybe your cat is getting older and you want to make sure she can still safely sit in the window. Or, maybe you just want life (yours and theirs) to be a little more convenient. Whatever the reason, pet-friendly home renovations can be a great way to improve your pet's quality of life.
What to do!
Here is a few pet-friendly home renovation ideas to  improve the lifestyle of you and your pet. These projects relieve stress, improve safety, and make life more enjoyable for you and your pets. 
Feeding Stations
If you're like most people, your pet is like another member of your family and you want them to eat in the kitchen with everyone else. Adding a small alcove under a cabinet for a built-in feeding station keeps the spilled kibble to a minimum. If you have a large dog or a particularly messy eater, adding a designated area keeps things neater. Add shelves for storage and drawers for food dishes and other supplies keeps things organized.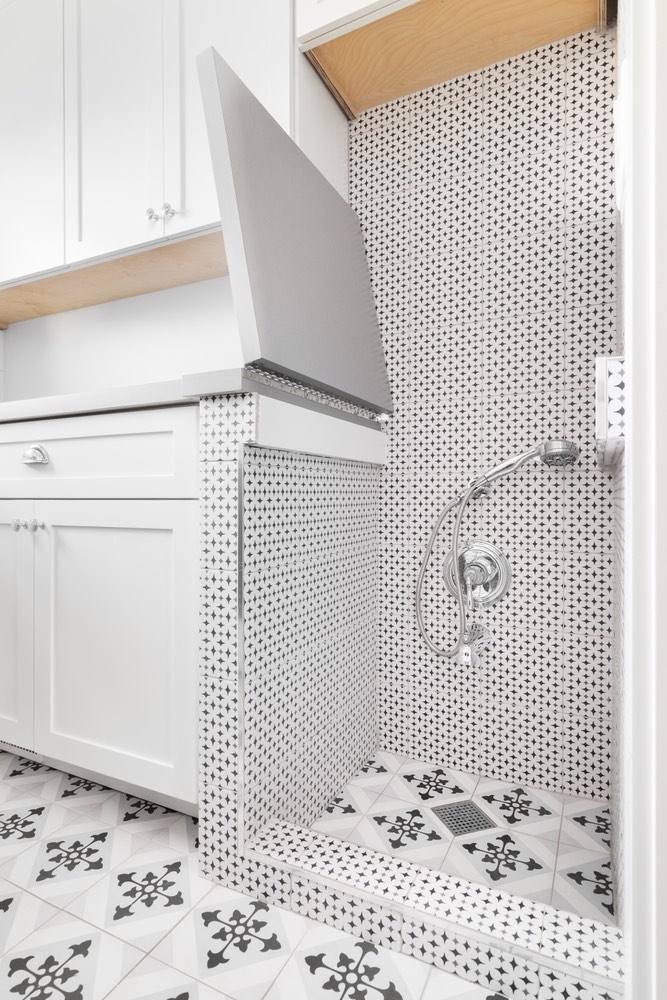 Mudrooms
Adding a mudroom is great for the two and four-legged residents! The more kids and pets you have the more you'll love a mudroom. Typically, you see mudrooms off a side entrance or adjacent to the garage. 
However, if your front door is the most trafficked entrance there are ways to create a space with attractive cabinetry for storage from everything from leashes to the kids shoes and backpacks. Make sure there is a bench with storage underneath and plenty of hooks for coats, leashes, and towels for wiping muddy paws. Add shelves for treats, poop bags, and toys.
Build a Dog Washing Station
This may be one of the most functional pet-friendly home renovations. If you have a dog, you know bath time can a big hassle. Lugging all of your pet's supplies to the bathroom, getting everything set up, and then trying to keep your pet in the tub long enough to get them clean is a real challenge. A dog washing station makes bath time much easier. Most look like a regular shower but at half the height or a small-depth tub built at counter height for smaller dogs.
You can build a pet washing station in your laundry room, mudroom, or even in your garage.Be sure to add counter space, and storage for all of your pet's supplies. Your dog will love having a comfortable space and you'll love not having to deep clean your bathroom every time your pet needs a bath.
Built-in Bed
Creating a specific place for your dog to sleep accomplishes a a couple things. Having a designated place to call their own gives a new pet a sense of security also teaches them to sleep in their own bed and not yours!  
Crates are great but not always attractive. A built-in space can match your decor without cluttering up the room with a crate. The rule of thumb is to build enough structure around the bed to ensure safely, have the entrance be about two times the size of your pet and to have a hinged opening for easy cleaning
Create a Cat Patio
Is your cat always looking to explore outside? Give them a space of their own with a catio. This pet-friendly home renovation is essentially a screened-in porch for your cat. It's the perfect place for them to enjoy some fresh air and get a great view of birds without worrying about them running away or being in danger.
You can build your cat their own patio yourself or hire a contractor to do it for you. Either way, make sure the space is big enough for your cat to move around in, has plenty of ventilation, and is escape-proof. Think about adding a cat bed, scratching post, and some toys to keep them entertained.
Start with Small Changes
If you're not ready for a major renovation project, there are still some pet-friendly changes you can make to your home. For example, you could install pet doors to give your dog the freedom to come and go as they please. For cats, think about adding some perches or shelves to the walls to give them elevated surfaces to rest on. 
Consider Pet-Friendly Home Renovations Next Time Your Home Needs an Update
As you think ahead to any upcoming renovations, keep your pets in mind. Your contractor can work with you to add in projects such as the dog washing station or catio to make the most of your space.